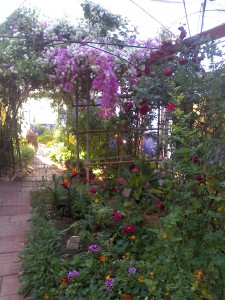 Eve's Garden is an innovative Organic Bed & Breakfast and Ecology Resource Center, located in the beautiful high mountain desert of West Texas, at the gateway to Big Bend National Park, in Marathon, Texas. Eve's Garden's large indoor organic gardens are filled year-round with blooming roses, bougainvillea, and countless flowers. Our private, quiet, thoughtfully hand-built guest rooms open to a central covered courtyard with a pond and tea room. Our wish is to provide a comfortable Bed and Breakfast environment and a conversational forum to address issues regarding the ecology we live in.
A large amount of recycled content, paper adobe/fiber-cement buildings, high Mexican contemporary color treatments, and a focus on locally produced food, conspire to create an aura of thoughtfulness.
"Thoughtfulness" — this is our goal — to motivate you, our guests to pursue the projects you have in your minds, and recognize that you can make a difference.