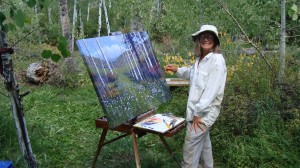 PRISCILLA WIGGINS, PLEIN AIR PAINTER
"I am most at home on a trail; in the wilderness; by a high mountain lake; above timberline; in the vast expanse of desert.
I feel most at ease standing at my easel; in a meadow of wildflowers; surrounded by aspens; perched on a rock by a rushing   stream with watercolors in my lap.
Priscilla Wiggins lives outdoors year-round, painting her surroundings. She was given an easel at age 3 while attending an experimental school run by Columbia University in NYC and spent her childhood summers on a 25 mile-long lake in NH learning survival skills at her uncle's camp. At Bennington College in Vermont she studied design and art history. She moved to the Southwest in 1968 and earned her B.A. at the University of New Mexico. By 1977 the appeal of the wilderness had led Wiggins to pursue her lifestyle of year-round camping and painting outdoors.
"Immersing myself in nature's sights, sounds and smells is an integral part of my work, although on-site painting has its challenges- battling dust and high winds when I have to get creative with bungee cords; lugging my easel across cactus-covered hills to paint a desert landscape; or completing a watercolor between cloudbursts above timberline. I like working in different mediums: on hiking trips where I need to work fast, I use watercolors, often with pen and ink, enjoying their fresh, loose quality. When car-camping I choose oils, applied both loosely and thick, for the pure sensual quality of the paint.
"Realism has never been my intent, but to capture the essence of a landscape, and, in a subtle way, its effect on me inwardly. By painting outdoors, on-site, this dialogue between nature and myself has a chance to appear in the painting.
Priscilla Wiggins has had solo and group shows in Taos, Santa Fe, Durango and in Alpine and Marfa, Texas. As one reviewer wrote: "The immediacy of her landscapes, springing from an intimate sense of nature as her living room is inspiring. Like Thoreau, Wiggins has turned her back on the life of . . .the rat race. If you can't get away to the outback, visiting a Wiggins show is almost compensation. This brave and determined woman has brought back visions in paint that remain on the retina a long time."
PRISCILLA WIGGINS
Birthplace:     Chappaqua, N.Y.
Education:     Childhood winter, spring, fall in N.Y.C. at Columbia University's
                       experimental pre-school with emphasis on art and music.  Summers
             on Lake Winnepesaukee, New Hampshire, learning nature survival
             skills. High School in Bernardsville, N.J.
                       Bennington College, Vt.- art studies w/Paul Feeley and David Smith
                       Art Students League, N.Y.C.
                       Boston Museum School
                       U.N.M. Albuquerque, Degree in Art
                       Boulder, Co.- watercolor studies w/Ed Young
                       Private painting studies w/David Barbero, Eli Levin and Elmer Schooley
1977-present  Begins painting on-site landscapes while living outdoors year round:
                       Winter and spring in Big Bend National Park, Tx.
                       Summer and fall in San Juan Mtns, S.W. Co.
                       Brief sojourns in Utah, New England, Hawaii, and U.S. Virgin Islands
                       1979-present  Artist-in-Residence at Vance Ranch, Colorado (summers.)
2003-2005     Artist-in-Residence in Big Bend National Park, Tx.
2005-present  Artist-in-Residence at Stillwell Ranch, Marathon, Texas (winters.)
Exhibitions
Group Shows:
             Gallery One, Woodstock, Vermont.
             Highlands University, Las Vegas, New Mexico.
             Hummingbird Gallery, Fort Worth, Texas.
             Blue Raven Gallery, Silverton, Colorado.
             New Masters Gallery, Taos, New Mexico.
Solo Shows:
            1987, 1988, 1989.  Natural Café, Santa Fe, New Mexico.
            1990, 1993, 2003.  Laurel Seth Gallery, Santa Fe, New Mexico.
            2006.  Ashby and Allison Gallery, Alpine, Texas.
            2010.  Argos Gallery/Eli Levin Studio, Santa Fe, New Mexico.
            2011.  Paisano Hotel Gallery, Marfa, Texas.
            2013. The Galleries at Eve's Garden, Marathon TX
            2015. Paisano Hotel Gallery, Marfa TX
            2016, 2017.  Invitational at Highlands University, Las Vegas, NM