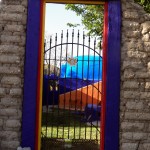 Eve's Garden is an innovative Organic Bed and Breakfast and Ecology Resource Center.  We have seven distinct private, quiet, thoughtfully hand-built guest rooms which open to a central covered courtyard with a pond and tea room. The unique guest rooms together with large indoor organic gardens provide a comfortable Bed and Breakfast environment.
A large amount of recycled content,paper adobe/fiber-cement buildings, high Mexican contemporary color treatments, and a focus on locally produced food, conspire to create an aura of thoughtfulness.
"Thoughtfulness" — this is our goal — to motivate you, our guests to pursue the projects you have in your minds, and recognize that you can make a difference.