Eve's Garden Amenities
Make yourself at home, here's a list of some additional offering that makes Eve's Garden special.
Reflection Pond / Summer-Time Solar Heated Lap Pool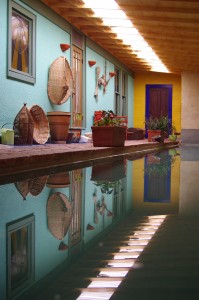 Just off the main house you'll find this beautiful space. In the winter, it's a peaceful reflecting pool perfect for sipping morning coffee, or an afternoon spot to gather inspiration. In the summer-time, it's a solar heated lap pool ,a great place to warm up before an exhilarating hike in the Big Bend.
The Main House: Our main house is where the brains behind Eve's Garden, Kate, lives. The house opens at 8 AM and you can come in for coffee or tea. Make yourself at home, but we usually head out to get our beauty sleep around 8PM.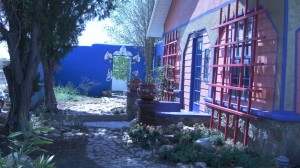 The Fire Pit: A great place to meet the other guests, tell your stories and watch the gorgeous West Texas night sky. * Make sure someone from Eve's Garden knows you have a fire going, don't want to burn down the greenhouse with an errant spark.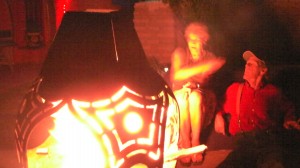 Organic Fair Trade Locally Roasted Coffee: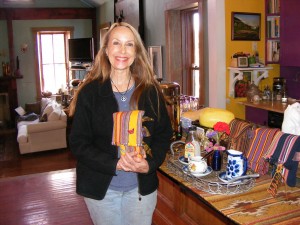 Kate w Guatamalan Gift Bag she made for Marfa Coffee
People love our coffee. We serve the coffee roasted in neighboring community Marfa, by Big Bend Roasters. They import organic fair-trade green coffee from the great coffee producers of the world and roast it in right there in Marfa. We serve it for breakfast and all day. If you'd like to pick up a souvenir bag, Kate has made some lovely gift bags from  beautiful Guatemalan material that Alaine and Noble picked up travelling by land from Costa Rica to West Texas.
Telephone: Feel free to use our phone at no cost within the USA
Temperature control: All of our guest rooms have their own air conditioning and faux -fire place heating, it doesn't take much to cool and heat our super-insulated papercrete rooms.
WiFi: Wireless Internet if available all over the property. No password.
The Covered Courtyard: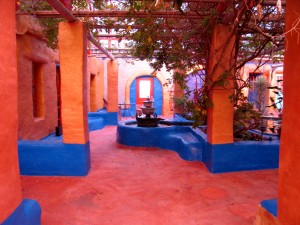 When walking out the back door of the main house, you pass through an open courtyard with the fire-pit and enter into the covered courtyard that is surrounded by six of our seven guest rooms and our courtesy room. Here we have a peaceful fountain, a fish pond, and tables and chairs for passing the afternoon or cool desert evenings. We have set up a band in the courtyard for intimate parties of up to 100.
Organic Greenhouse: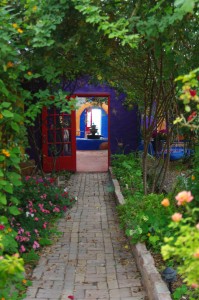 Kate's Organic Greenhouse
Make yourself at home in our greenhouse. Kate has her own greenhouse producing over 20 varieties of roses and countless flowers.  In the summer of 2014 we completely reconstructed the roof, installing a more professional (and pretty) double walled polycarbonate plastic. New seeds are in the ground, soon we'll be overflowing with vegetables!

Filtered Water: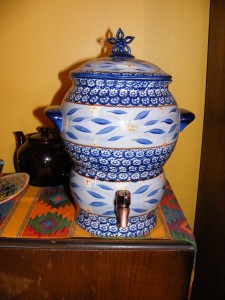 Stay Hydrated
Marathon is located in the West Texas high desert, at 4000 feet. It is usually quite dry here. It is very important to stay hydrated! We have filtered water in the main house. In the courtesy room there are water filters to refill your bottles.
Our Courtesy Room: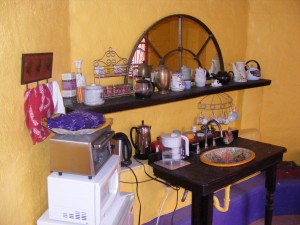 Off the covered courtyard we have what we call our courtesy room. It has an ice machine, a toaster oven, a microwave, a mini-fridge (each room also has a mini-fridge), electric tea pot, tea, filtered water, and mix for hot chocolate. We provide a thermal pot of coffee for the early risers. There are dishes and utensils for a meal in the courtyard.There is a selection of books too. If you find one you like, feel free to carry it on your journey.
Souvenirs: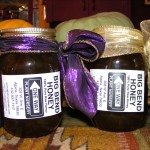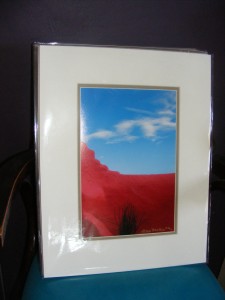 Big Bend Roasters Fair-Trade Organic Coffee, Cowboy Johnny's Local Honey,  Alexa Walker's Photography (Card Sets and Prints), Lynn's Gammon's mizuhiki orbs, and much more; you never know what treasure we might have to share with you!