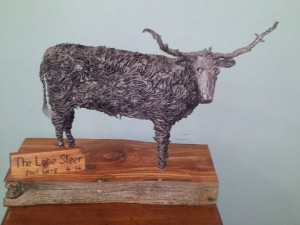 The "Lone Steer"
created by Dr. Paul Berg, Professor Emeritus, Animal Sciences Department, North Dakota State University
The entire piece is constructed from components which were once in a "working" fence.
The wire in the body is either the Burnell 4 point patent of 1877 or a Glidden patent dating to 1874. The horns are now in their third life. They are made from wire that was originally telegraph wire and received a second life as tie wires for corner posts. All were recovered from fences on the Horseshoe Bend Angus Ranch, Cass and Richland counties, the southeastern-most counties in North Dakota.  Horseshoe Bend Ranch is owned by the Berg Family and parts of it include an original homestead from the 1870's.
The base was once a "working" fence post on the Leland Red Angus Ranch, Squaw Gap (postal address Sydney, MT) McKenzie county in western ND. Parts of this ranch also include an original homestead from the 1880's. The current owners are nephews of former North Dakota Governor Arthur Link.
The wood is "Badlands" cedar, and is very hard because it is very slow growing. The annular rings suggest a four inch cross section is from a tree which was more than 100 years old. If one assumes the "life" of a fence post of this type to be 80 or more years, it is possible that the tree which provided the base for Lone Steer was growing when Lewis and Clark passed by on the near-by Missouri River in 1804.
The owners of both ranches are members of the NDSU Saddle and Sirloin Club Agriculturist Hall of Fame and along with several additional family members, are NDSU Alumni.
Paul Berg
Horseshoe Bend
Summer 2014