Eve's Garden came to be in 2001…
This is Eve: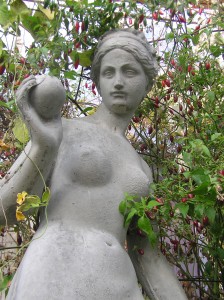 Eve takes back the garden!
Bubbles: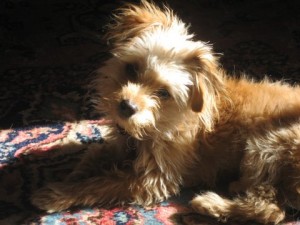 Bubbles is the first one you will meet upon arrival at Eve's Garden B &B. We were lucky enough to find him on March 21, 2012 from the Alpine Humane Society. He wieghs about 4 pounds, is five months old, a poodle and Chijuajua mix, or so they say. We think his name is Bubbles, we also call him Bubba, Stinky, Chipotle, the Kangaroo (he HOPS), the Door Bell (cuz he lets us know when someone is at the door, but NOT a Yipper), Fang (cuz he weighs 4 pounds, it's ironic) …he's so smart he answers to any name. Please don't feed the animals. His little digestive system is particular- thanks.
Kate Thayer:

Kate; an artist, cook, gardener, accountant, maid, florist, former steelworker, and an all around inspirational and fun lady! With Kate, you'll feel like you've rejoined with an old and dear friend after the first 10 minutes.
Kate grew up and spent most of her adult life in Houston Texas. Tired of the big city, after vacationing in Marathon many times, in 1999 Kate had the opportunity to purchase a small "four square" home just off the main street in Marathon.
Kate had the plan to create a B & B across town, as plans often do, that plan changed.
Kate had gotten settled into her new home, after removing 15 layers of wall paper and layer after layer of flooring, she added a room on to the west side of her home to fit a 10 foot high work of art made by Monte Schatz. For this addition Kate hired Clyde Curry and they built the new room out of traditional Adobe. Each adobe block weighs around 40 pounds! This inspired Kate and Clyde to investigate an alternative form of construction.
Next came the pool room, and after discovering  papercrete, their backs were a bit less strained.
So, together, Kate and Clyde started building the B & B, first the Garden room, then the Lotus Suite, and on to 7 guest rooms. With the increased popularity of the B & B, Alaine and Noble started to come and help out during the busy months.
Noble Baker:

Noble is Kate's son. Noble spends half of the year with his beautiful wife Alaine here in Marathon West Texas and the other half of the year on the Caribbean Coast of Costa Rica.
Computer geek, creative wizard, skeptic, and all around handy man. Alaine calls Noble the "Spice god." Alaine's skill is putting the meal together, but before serving a dish we call in Noble for the final approval. Noble might say something like "it's pretty darn good, but just add seven grains of salt and it will be perfect!"
Alaine Berg:
Alaine grew up in the frigid tundra of North Dakota, was a not-so-good high school Spanish teacher before she moved to Texas in the 90's to work through The Nature Conservancy to raise funds to protect rainforest land. While living in Houston, Alaine met Noble and fell madly in love. They decided to escape the big city and move to the small town of Puerto Viejo de Talamanca on the Caribbean coast of Costa Rica (where Noble's Dad relocated in the 70's). Here she began to work on conservation work directly at ATEC, the Talamancan Associaiton of Ecotourism and Conservation. Realizing after a few years working at ATEC, that conservation is best served in the hands of the locals, and due to the popularity of Eve's Garden and Kate's need for a few more hands, Noble and Alaine started spending more and more time at Eve's Garden,developing a passion for sustainable construction, homegrown food and time with travelers inspired by this magnificent creation.
Clyde Curry:

Former construction manager, self-made architect, innovator, papercrete and alternative building expert, story teller and thinker, Clyde was with Eve's Garden for the construction of the seven guest rooms. He trained Kate, Noble, and Alaine to be papercrete experts in their own right and now is an ever helpful off-sight consultant.